Golden Manpower International Consultants is hiring for Etihad Hospitality Management Company Dubai, a leading transport company in Saudi Arabia, and Al Yamama Company in Saudi Arabia.
A large number of job vacancies for Indians, and cv shortlisting is ongoing. All interested candidates with related experience please send your cv to the given email address.
Golden Manpower Recruitments
Etihad Hospitality Maintenance Project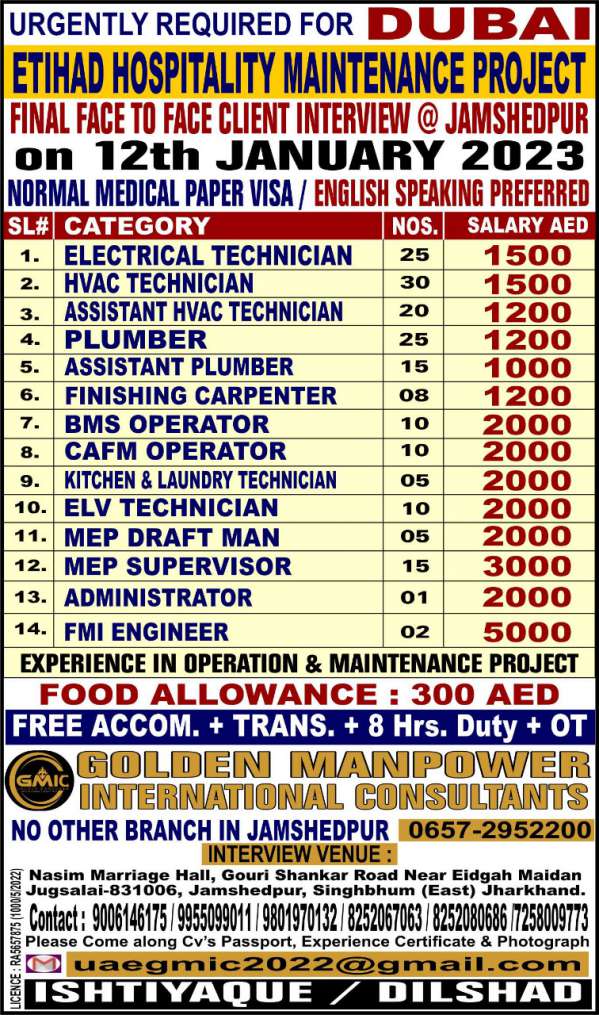 Urgently required for Etihad Hospitality maintenance project in Dubai. Final face-to-face client interview at Jamshedpur on 12th January 2023. Normal medical paper visa / English-speaking candidates are preferred. All candidates must have experience in operation & maintenance projects.
Also – Jobs Gulf | Dubai jobs | Saudi Jobs | UAE jobs
Trailer Driver & Heavy Driver job Saudi Arabia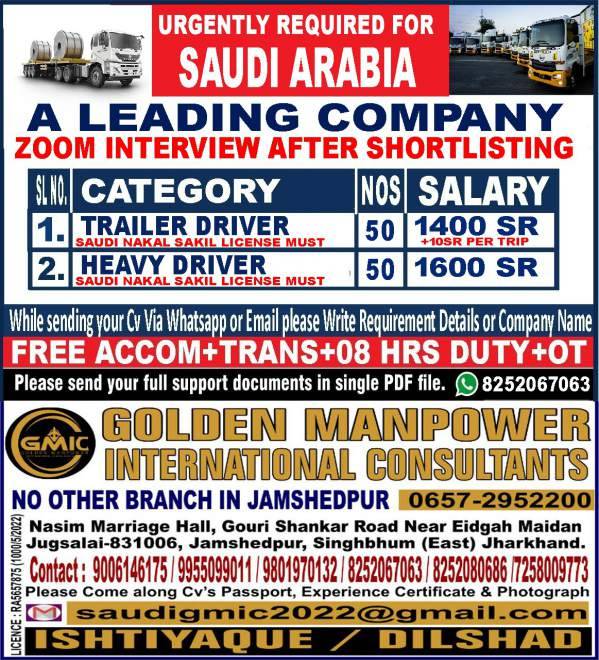 A leading transport company situated in Saudi Arabia is required Trailer drivers and heavy drivers, candidates must have Saudi Nakal licenses. Please send your full support documents in a single PDF file to – 8252067063.
Also, Apply – Asmacs group gulf jobs | Madina Group | Enova | Soft drink company
Al Yamama Company Job – Saudi Arabia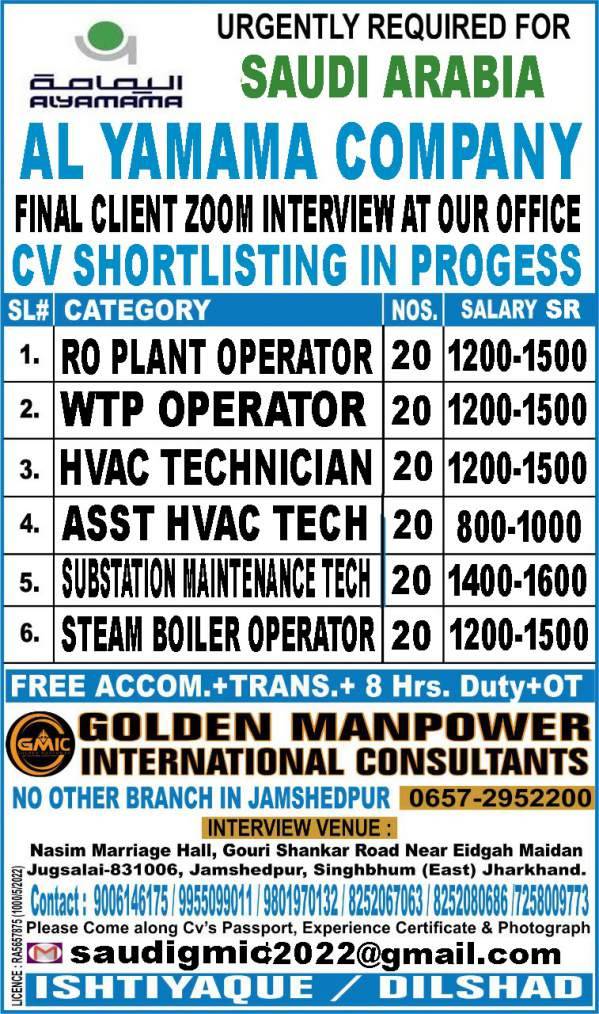 Urgently required for Al Yamama Company in Saudi Arabia. Cv shortlisting is in progress. Final client interview at Golden Manpower office in Jamshedpur.
Golden Manpower Office:
Golden Manpower, No-2, Nasim Marriage Hall, Gauri Shankar Road, Jugsalai, Jamshedpur, Jharkhand– 831006
Phone: +91-9769629783
Apply Process
To apply for any job position please send your updated Cv, education certificate, experience certificate, and copy of the passport in PDF format to the given email address. Don't forget to mention the job position in the email subject line.
नौकरियों की पद के लिए आवेदन करने के लिए अपने अपडेटेड सीवी, शिक्षा प्रमाण पत्र, अनुभव प्रमाण पत्र, और पासपोर्ट की कॉपी Pdf फॉर्मेट में दिए गए ईमेल पते पर भेजें। ईमेल के सब्जेक्ट में नौकरी की पद का उल्लेख करना न भूलें।
Download Android App – Download
WhatsApp Group – Join Now
Latest Gulf Jobs