Today's Gulf job vacancies news paper today | Check 26 March 2023 Gulf job vacancies newspaper – Job openings for multiple companies in Saudi Arabia, Qatar, Oman, Bahrain, UAE, and Kuwait. Manpower agencies across India provide all the following job advertisements.
ये पेपर रोजाना अपडेट होता है, अगर आप ये पेपर हर दिन चाहते है तो हमारा WhatsApp ग्रुप ज्वाइन कर ले, जिससे आपको अपडेट मिल सके –
आज का PDF पेपर देखें – 500+ वेकन्सी
Gulf job paper | Gulf job vacancies newspaper today
Jobs for Oil & Gas company in Abu-Dhabi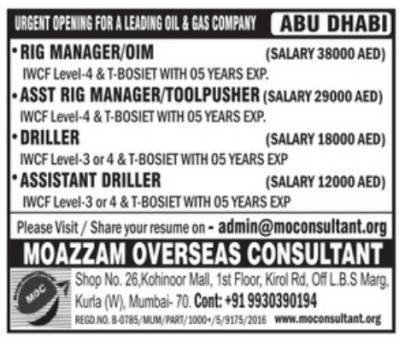 Employment Visa for UAE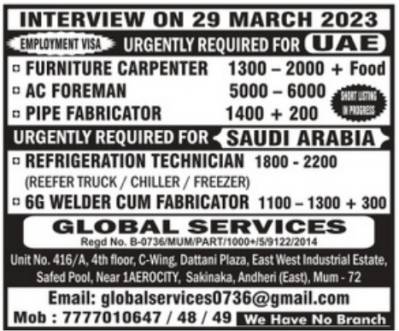 FMCG Company jobs in Saudi Arabia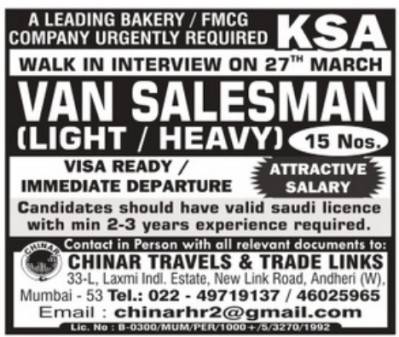 Oil & Gas construction jobs Abu-Dhabi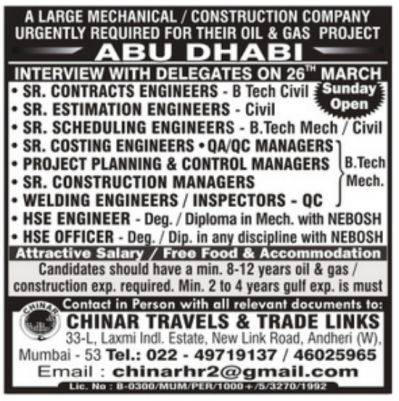 Jobs for a Maintenance company in Dubai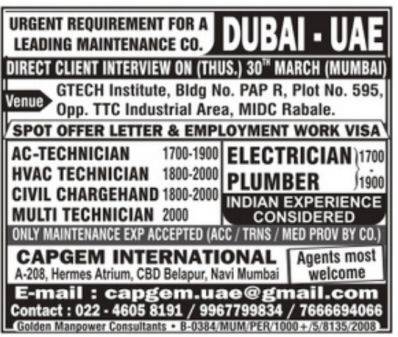 Job vacancies for Saudi Arabia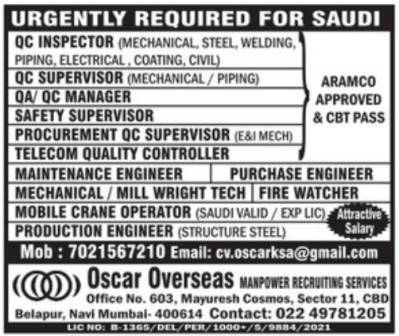 Apply Process
To apply for any job position please send your updated Cv, education certificate, experience certificate, and copy of the passport in PDF format to the given email address. Don't forget to mention the job position in the email subject line.
नौकरियों की पद के लिए आवेदन करने के लिए अपने अपडेटेड सीवी, शिक्षा प्रमाण पत्र, अनुभव प्रमाण पत्र, और पासपोर्ट की कॉपी Pdf फॉर्मेट में दिए गए ईमेल पते पर भेजें। ईमेल के सब्जेक्ट में नौकरी की पद का उल्लेख करना न भूलें।
Download Android App – Download
WhatsApp Group – Join Now
फेसबुक में जॉब की जानकारी के लिए लाइक और फॉलो करे –
Latest Gulf Job Paper by Country
Click on the link given below to find more Gulf job vacancies by Country:
Gulf job vacancies news paper today
Gulf Job Paper is a term used to refer to a type of publication or website that advertises job vacancies in the Gulf region, which includes countries such as Saudi Arabia, the United Arab Emirates, Qatar, Bahrain, Oman, and Kuwait. These publications and websites typically contain job listings from a wide range of industries, including oil and gas, construction, hospitality, healthcare, finance, and many others.
Gulf job papers can be useful resources for job seekers looking for employment opportunities in the Gulf region, as they provide a centralized location to search for job openings and can help applicants identify potential employers and positions that match their qualifications and experience. Some popular Gulf job papers include Gulf News, Khaleej Times, and Gulf Times, among others.
Gulf job papers are typically published in both print and online formats. Print versions are usually posted on a weekly or daily basis, and are available for purchase at newsstands or can be delivered to subscribers. Online versions are typically updated daily and can be accessed for free through the publication's website or job portal.
These job papers often have a wide range of job listings, including entry-level positions as well as senior management roles. They may also feature job openings from various sectors of the economy, such as construction, engineering, finance, IT, healthcare, hospitality, and many others. Many Gulf job papers also include additional resources for job seekers, such as advice on how to write a strong resume, tips for acing job interviews, and articles on industry trends and hiring practices.
Gulf job papers are particularly popular among expatriate workers looking for employment in the Gulf region. Many ex-pats are attracted to the Gulf for its tax-free salaries, relatively low cost of living, and opportunities for career advancement. However, finding a job in the Gulf can be challenging, as many employers require candidates to have a specific set of skills and experience. Gulf job papers can help job seekers navigate these challenges by providing them with access to a wide range of job listings and resources to help them prepare for the job search process.
Which website is best for Gulf jobs?
There are several websites that can be used to search for jobs in the Gulf region, but "jobgulf.in" is the best website for Indians to find jobs in Gulf countries.
Which jobs are in demand in Gulf countries?
The jobs in demand in the Gulf region vary depending on the specific country and its current economic climate. However, in general, the following jobs are in high demand in the Gulf:
1. Engineering: Mechanical, electrical, and civil engineers are in high demand in the Gulf, particularly in the construction and oil and gas industries.
2. IT and computer-related jobs: With the growing technology sector in the Gulf, jobs such as software developers, data analysts, and network administrators are in demand.
3. Healthcare professionals: With the increasing focus on healthcare in the Gulf, medical professionals such as doctors, nurses, and dentists are in high demand.
4. Hospitality and tourism: Jobs in the hospitality and tourism sector, such as hotel managers, chefs, and tour guides, are in demand due to the growing tourism industry in the Gulf.
5. Education: With the increasing focus on education in the Gulf, jobs such as teachers, lecturers, and trainers are in high demand.
It's important to note that the demand for these jobs can vary depending on the current economic conditions and the specific country in the Gulf. It's best to research the job market in the desired country and to have the necessary qualifications, skills, and experience for the desired position.
How can I get a job in Dubai?
Getting a job in Dubai can be a competitive process, but the following steps can increase your chances of success:
1. Research the job market: Research the industries and companies in Dubai that align with your skills, experience, and career goals.
2. Update your resume and LinkedIn profile: Ensure that your resume and LinkedIn profile accurately reflect your qualifications, skills, and experience.
3. Network: Reach out to your professional network, attend job fairs and networking events, and consider joining professional organizations related to your field.
4. Apply for jobs: Submit your applications to the companies and positions that match your skills and experience. Tailor your cover letter and resume to each specific job you apply for.
5. Prepare for interviews: Research the company and be prepared to discuss your qualifications, skills, and experience in detail.
6. Consider working with a recruitment agency: Recruitment agencies can help you find job openings, provide advice on the job search process, and connect you with potential employers.