Gccwalkins | Job Openings for a Maintenance company in Saudi Arabia, an Engineering company in Uzbekistan, and Engineering & Construction company in Saudi / Oman / Abu-Dhabi.
Urgent hiring by leading manpower agencies for Saudi Arabia, Oman, Abu-Dhabi, and Uzbekistan. All the details are given in the images given below.
Gccwalkins Job Interviews
Saudi Interview by Al-Hudaif Consultancy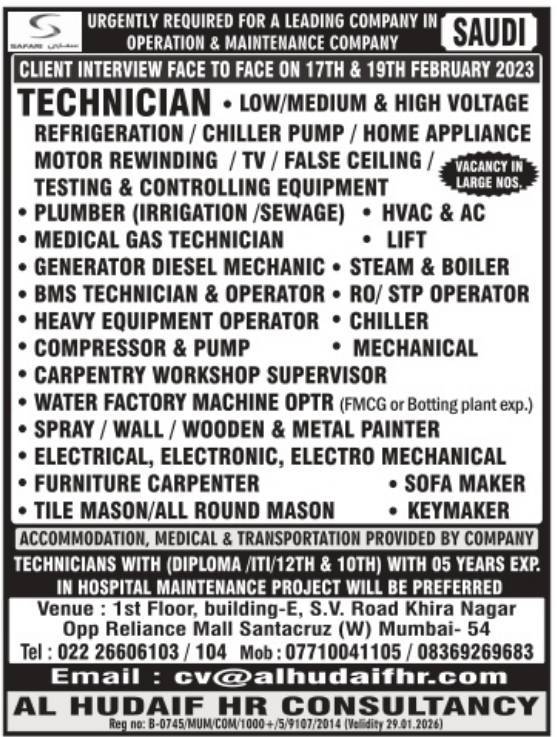 Urgently Required for a Leading Safar Company (Operation & Maintenance Company) in Saudi Arabia. Vacancy in large numbers. Client Interview Face to Face on 17th & 19th February 2023.
Job Positions:
Technician – Low/Medium & High Voltage Refrigeration/Chiller Pump/Home Appliance Motor Rewinding/Tv/False Ceiling/Vacancy in Testing & Controlling Equipment
Plumber (Irrigation /Sewage)
HVAC & Ac
Medical Gas Technician
Generator Diesel Mechanic
Bms Technician & Operator
Lift
Steam & Boiler
Ro/ Stp Operator
Heavy Equipment Operator
Chiller
Compressor & Pump
Mechanical
Carpentry Workshop Supervisor
Water Factory Machine Optr (Fmcg or Botting Plant Exp.)
Spray/Wall/Wooden & Metal Painter
Electrical, Electronic, Electro-Mechanical
Furniture Carpenter
Sofa Maker
Tile Mason / All Round Mason
Keymaker
Job Description: Technicians with (diploma/iti/12th & 10th) with 05 years of experience in hospital maintenance projects will be preferred.
Apply Email: cv@alhudaifhr.com
Contact: 07710041105 / 08369269683
Consultancy: AL HUDAIF HR CONSULTANCY – 1st Floor, building-E, S.V. Road Khira Nagar Opp Reliance Mall Santacruz (W) Mumbai.
Also, Apply for – Gulf Interview | Saudi / Qatar / Kuwait / UAE / Bahrain
---
Uzbekistan Interview by Asiapower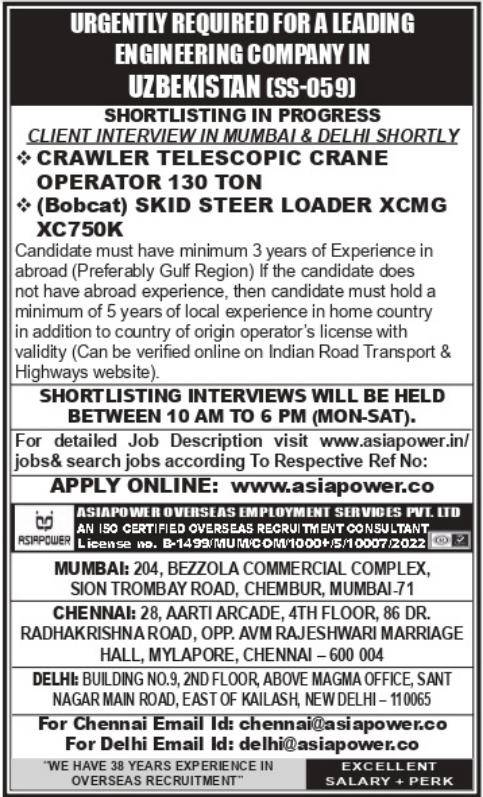 Urgently Required for a Leading Engineering Company in Uzbekistan (Ss-059). Shortlisting in Progress – Client Interview in Mumbai & Delhi Shortly.
Job Positions:
CRAWLER TELESCOPIC CRANE OPERATOR 130 TON
(BOBCAT) SKID STEER LOADER XCMG XC750K
Job Description: The candidate must have a minimum of 3 years of Experience abroad (Preferably in the Gulf Region) If the candidate does not have abroad experience, then-candidate must hold a minimum of 5 years of local experience in their home country in addition to the country of origin operator's license with validity (Can be verified online on Indian Road Transport & Highways website).
Apply Email: For Chennai Email Id: chennai@asiapower.co | For Delhi Email Id: delhi@asiapower.co
Consultancy: Asiapower Overseas Employment Services Pvt. Ltd – 204, Bezzola Commercial Complex, Sion Trombay Road, Chembur, Mumbai
Check – View All Asiapower Job Vacancies
---
Saudi Arabia / Oman / Abu-Dhabi Jobs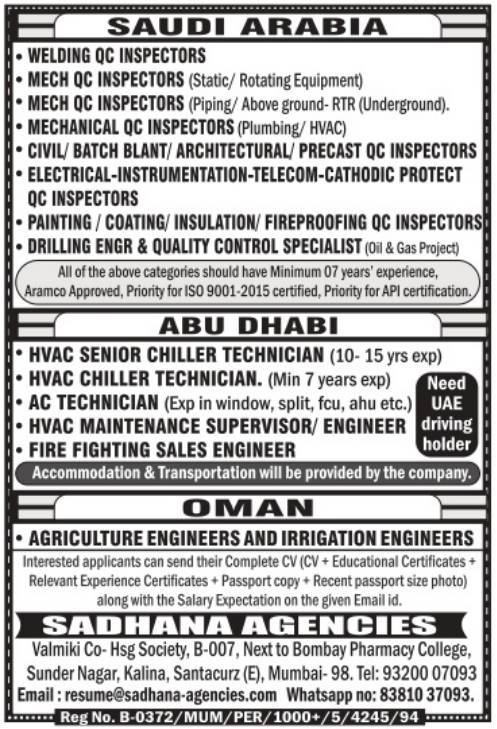 A large number of job vacancies for the multiple companies in Saudi Arabia, Abu-Dhabi, and Oman. Interested candidates please send your Cv for shortlisting.
Job Positions for Saudi Arabia:
Welding Qc Inspectors
Mech Qc Inspectors (Static/ Rotating Equipment)
Mech Qc Inspectors (Piping/above Ground- Rtr (Underground)
Mechanical Qc Inspectors (Plumbing/Hvac)
Civil/ Batch Blant/ Architectural/ Precast Qc Inspectors
Electrical-Instrumentation-Telecom-Cathodic Protect
Qc Inspectors
Painting/Coating/ Insulation/ Fireproofing Qc Inspectors
Drilling Engr & Quality Control Specialist (Oil & Gas Project)
All of the above categories should have Minimum 07 years' experience, Aramco Approved, Priority for ISO 9001-2015 certified, Priority for API certification.
Job Positions for Abu-Dhabi:
Hvac Senior Chiller Technician (10-15 Yrs Exp)
Hvac Chiller Technician. (Min 7 Years Exp)
Ac Technician (Exp in Window, Split, Fcu, Ahu Etc.)
Hvac Maintenance Supervisor/ Engineer
Fire Fighting Sales Engineer
Need UAE Driving license. Accommodation & Transportation will be provided by the company.
Job Positions for Oman:
Agriculture Engineers and Irrigation Engineers
Job Description: Interested applicants can send their Complete CV (CV+ Educational Certificates + Relevant Experience Certificates + Passport copy + Recent passport size photo) along with the Salary Expectation on the given Email id.
Apply Email: resume@sadhana-agencies.com
Contact: 83810 37093
Consultancy: Sadhana Agencies – Valmiki Co-Hsg Society, B-007, Next to Bombay Pharmacy College, Sunder Nagar, Kalina, Santacurz (E), Mumbai- 98
आज का गल्फ जॉब PDF पेपर देखे – 1000+ वेकन्सी
How to Apply?
To apply for this job position please send your updated Cv, education certificate, experience certificate, and copy of the passport in PDF format to the given email address. Don't forget to mention the job position in the email subject line.
इन नौकरियों की पद के लिए आवेदन करने के लिए अपने अपडेटेड सीवी, शिक्षा प्रमाण पत्र, अनुभव प्रमाण पत्र, और पासपोर्ट की कॉपी Pdf फॉर्मेट में दिए गए ईमेल पते पर भेजें। ईमेल के सब्जेक्ट में नौकरी की पद का उल्लेख करना न भूलें।
अगर आप ये पेपर हर रोज चाहते है तो, आप इस पेज को बुकमार्क में सेव कर लीजिये या फिर हमारे फेसबुक पेज को फॉलो कर लें, हम अपने फेसबुक पेज और टेलीग्राम ग्रुप में रोजाना पीडीऍफ़ पेपर अपलोड करते है।
टेलीग्राम ग्रुप ज्वाइन करे – JOIN
Download Android App – Download
फेसबुक में जॉब की जानकारी के लिए लाइक और फॉलो करे –
More Latest Gccwalkins