Gulf Assignment paper | Employment visa – Urgent requirements for the various companies in Qatar, Abu-Dhabi, Saudi Arabia, and UAE. A large number of job vacancies. Shortlisting is in progress – Client interview and other details are given in the images.
Gulf Assignment paper
Techno Steel Jobs – Qatar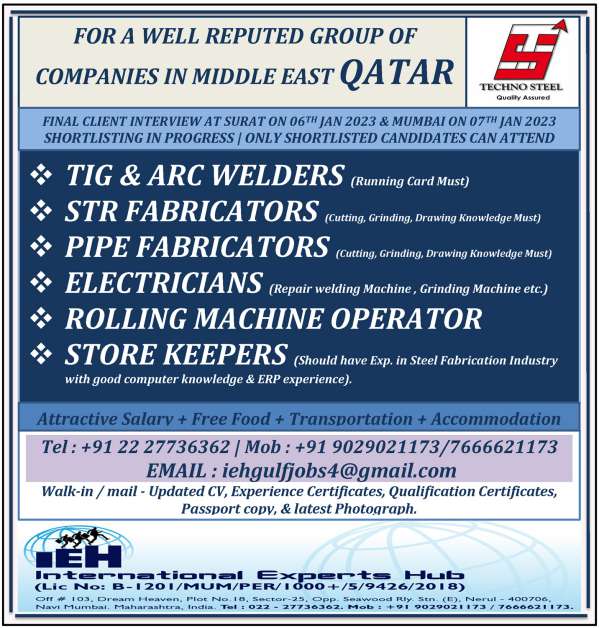 A well-reputed Techno steel company is hiring for various job positions as given in the image. Final client interview at Surat on 06 January 2023 & Mumbai on 07 January 2023. To apply please send your Cv to email at – iehgulfjobs4@gmail.com.
Furniture Manufacturing Company – Saudi Arabia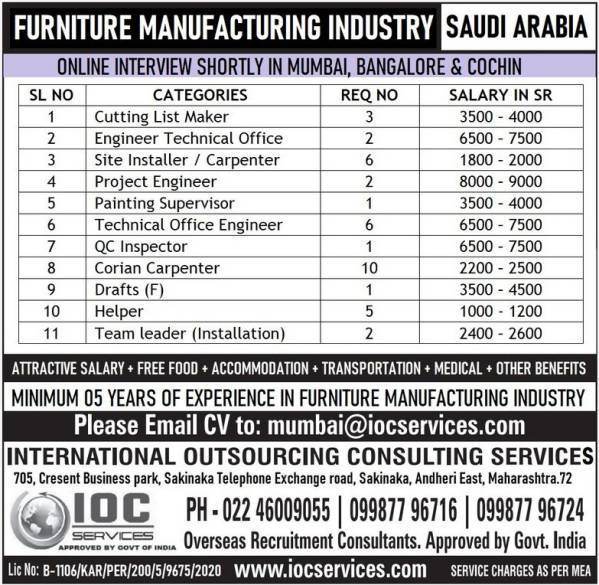 A leading furniture manufacturing company in Saudi Arabia is hiring for the following job positions as given in the image. Online interview shortly at Mumbai, Banglore & Cochin.
Also, check – Job vacancies for UAE / Kuwait
MEP Facility Management job – UAE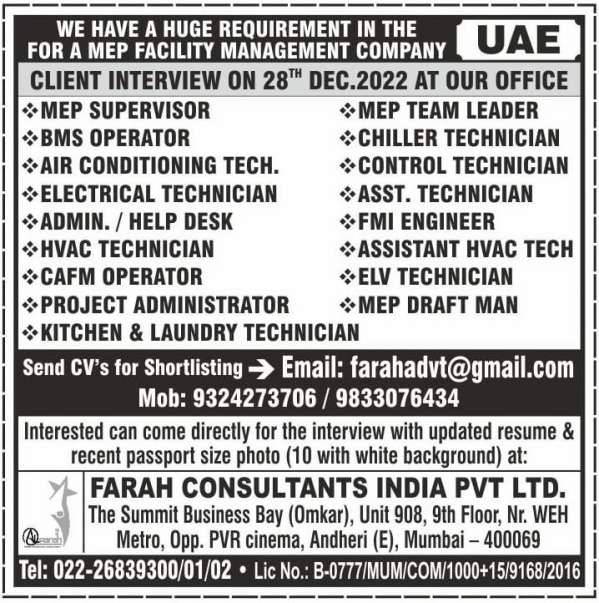 There are many job requirements for the MEP facility management company in UAE. Client interview on 28th December 2022 at Farah Consultants India Pvt Ltd, Mumbai. All details re given in the image above.
Heavy Steel company – Saudi Arabia
Hiring by Asmacs consultants for a reputed heavy steel company in Saudi Arabia. Walk-in for interview on 24, 25, 26, and 27th Dec 2022 at Asmacs Office in Mumbai. All details are given in the image above.
View all ASMACS job Vacancies for Gulf
Borouge Shutdown jobs – Abu Dhabi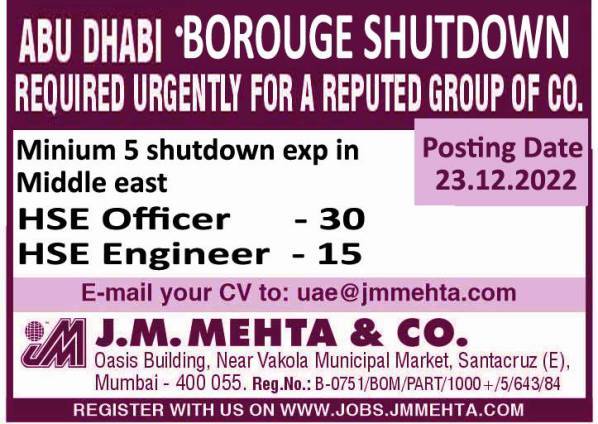 Elegancia Catering Company – Qatar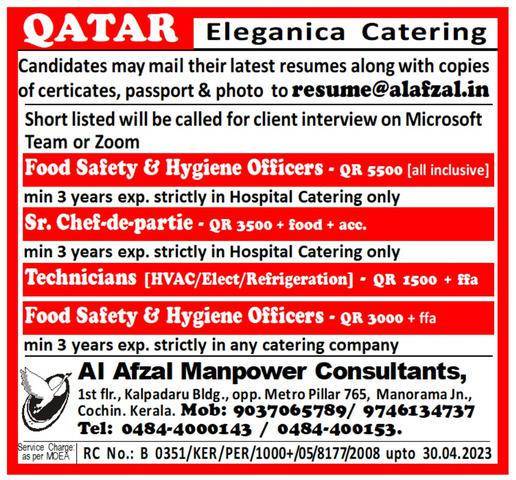 Want for Elegancia Catering company in Qatar. Interested candidates mail their latest resumes along with copies of certificates, passports, & photos to – resume@alafzal.in. Shortlisted candidates will be called for client interviews on Microsoft Team or Zoom.
Today Gulf Jobs PDF – 500+ Jobs
Apply Process
To apply for any job position please send your updated Cv, education certificate, experience certificate, and copy of the passport in PDF format to the given email address. Don't forget to mention the job position in the email subject line.
नौकरियों की पद के लिए आवेदन करने के लिए अपने अपडेटेड सीवी, शिक्षा प्रमाण पत्र, अनुभव प्रमाण पत्र, और पासपोर्ट की कॉपी Pdf फॉर्मेट में दिए गए ईमेल पते पर भेजें। ईमेल के सब्जेक्ट में नौकरी की पद का उल्लेख करना न भूलें।
Download Android App – Download
More latest Gulf Assignment paper