Latest Gulf daily news job vacancy classifieds – Urgent requirements for Saudi Arabia and Oman. Interview for the leading companies for Oil and Gas Company, Engineering & maintenanace, Facility Management, Plastic Manufacturing company, Sabic & Safco project, and Petrochemical company.
All the interested candidates with related experience please read the details, and apply accordingly as details are given below. If you want to apply for the job please send your updated Cv along with the supporting documents to the given email address.
Gulf daily news job vacancy classifieds
In the following job papers these job positions are available to apply –
Hvac Supervisor
Mechancial Technician
Fire Alarm technician
Kitchen appliance technician
Civil Supervisor
Facility Supervisor
Technicial lead
Furniture Carpenter
General Mason
Bike Rider
Restaurent worker
Excavation supervisor
Electrical overhead installation Supervisor
Asphalting Foreman
Cable Jointer
HV technician
Hydraulic Mechanic
Diesel Mechanic
Rigger
Helper
Work permit reciver
Telecom technician
Tig + Arc welder
Blaster
Airless Painter
Shutdown Manager
Planning Engineer
Estimation engineer
QA/ Qc Engineer
Safety Engineer
Safety Supervisor
Etc.
Oil & Gas / Facility / Engineering – Oman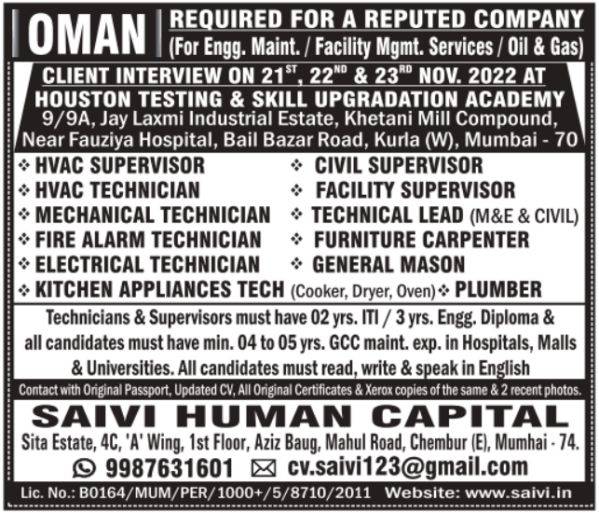 Plastic Product Manufacturing Company – Saudi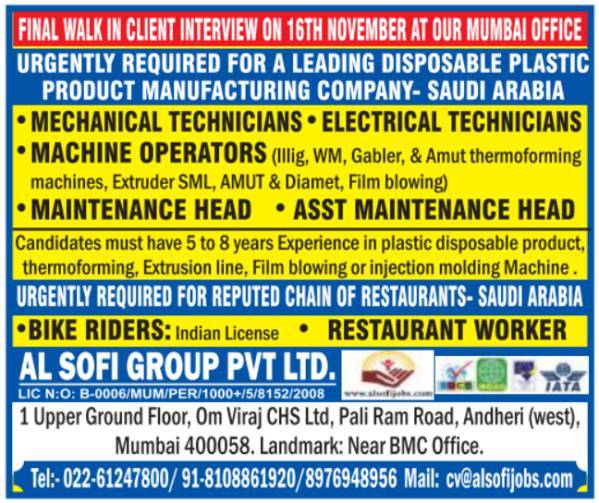 Shirka Alkhuzaim Company, Abha – Saudi Arabia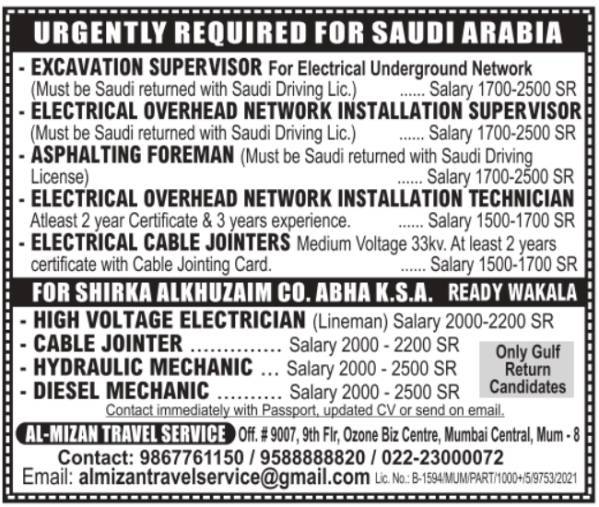 Long Term Sabic & Safco – Saudi Arabia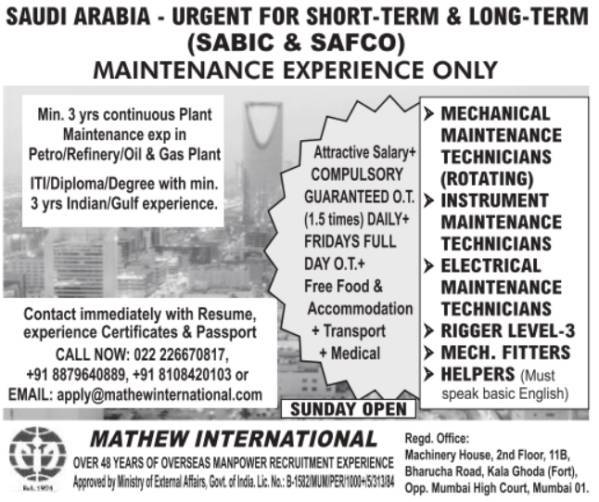 N.M International Mumbai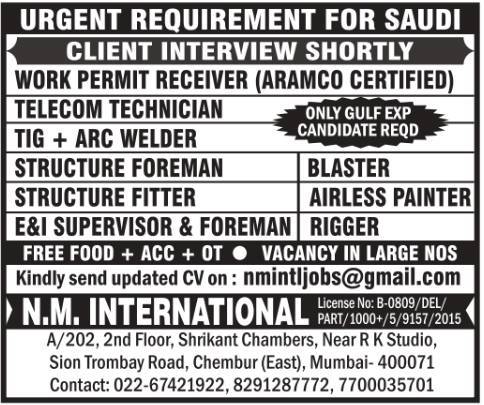 Oil & Gas Project By M Gheewala Mumbai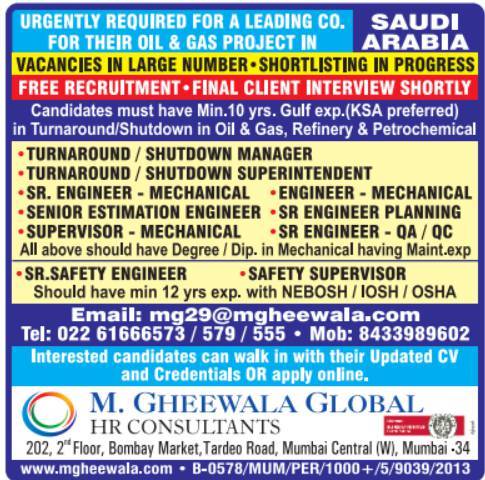 Today Gulf Jobs PDF Paper – 100+ Jobs
How to Apply?
To apply for this job position please send your updated Cv, education certificate, experience certificate, and copy of the passport in PDF format to the given email address. Don't forget to mention the job position in the email subject line.
इन नौकरियों की पद के लिए आवेदन करने के लिए अपने अपडेटेड सीवी, शिक्षा प्रमाण पत्र, अनुभव प्रमाण पत्र, और पासपोर्ट की कॉपी Pdf फॉर्मेट में दिए गए ईमेल पते पर भेजें। ईमेल के सब्जेक्ट में नौकरी की पद का उल्लेख करना न भूलें।
अगर आप ये पेपर हर रोज चाहते है तो, आप हमारे वेबसाइट को बुकमार्क में सेव कर लीजिये या फिर हमारे फेसबुक पेज को फॉलो कर लें, हम अपने फेसबुक पेज और टेलीग्राम ग्रुप में रोजाना पेपर अपलोड करते है।
फेसबुक में हमारे साथ जुड़े – Follow on Facebook
टेलीग्राम ग्रुप ज्वाइन करे – JOIN
Download Android App – Download
More Gulf daily news job vacancy classifieds