Gulf jobs | A large number of job vacancies for Saudi Arabia, Oman, Qatar, UAE, Bahrain, and Kuwait. The hiring agency for the following job vacancies is M Gheewala Global Mumbai.
Job positions are currently open for some popular industries in the Gulf region including oil and gas, construction, finance, healthcare, hospitality, and tourism. Many international companies also have offices in the Gulf region, providing additional employment opportunities.
Also, Apply for – Gulfwalkin Mumbai | Kuwait, Dubai, Saudi, Oman
3D & 2D Designer job – Saudi Arabia
Jobs for Industrial Company – Saudi Arabia
Diploma jobs – Saudi Arabia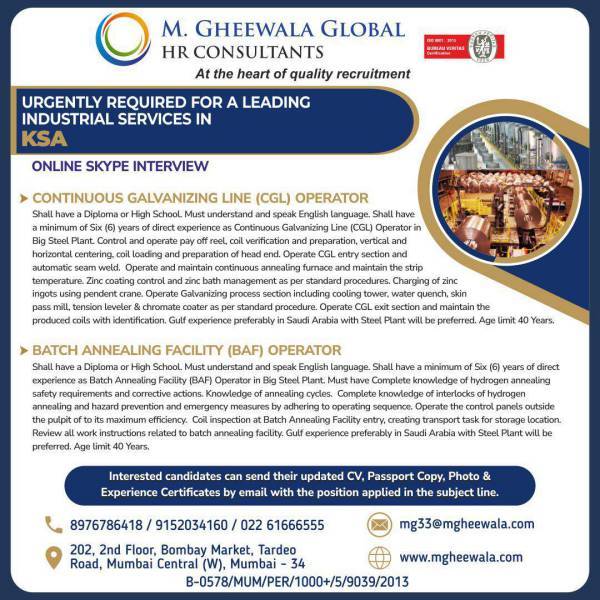 Shipping Company jobs – Saudi Arabia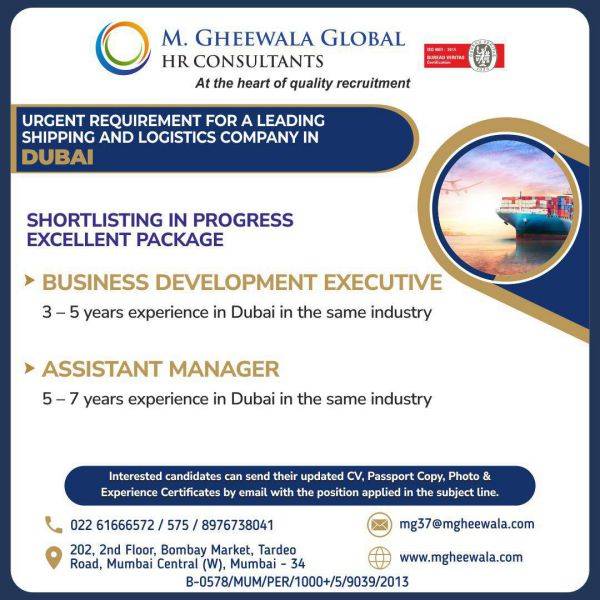 Pest Control Technician job – Saudi Arabia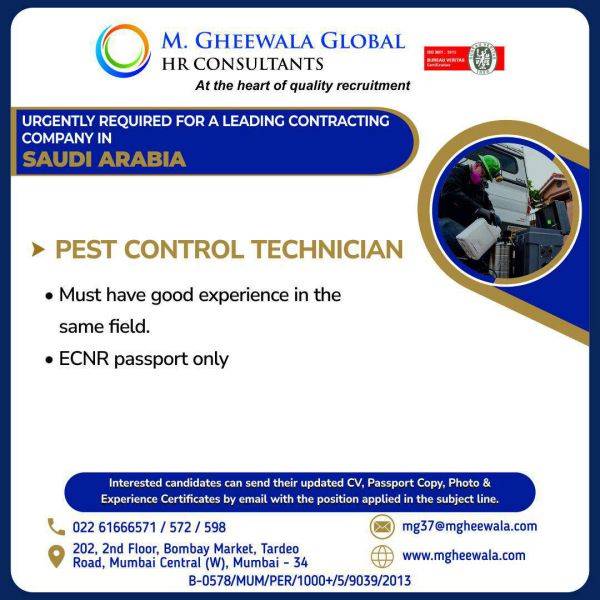 Tea Boy & Cleaner jobs – Saudi Arabia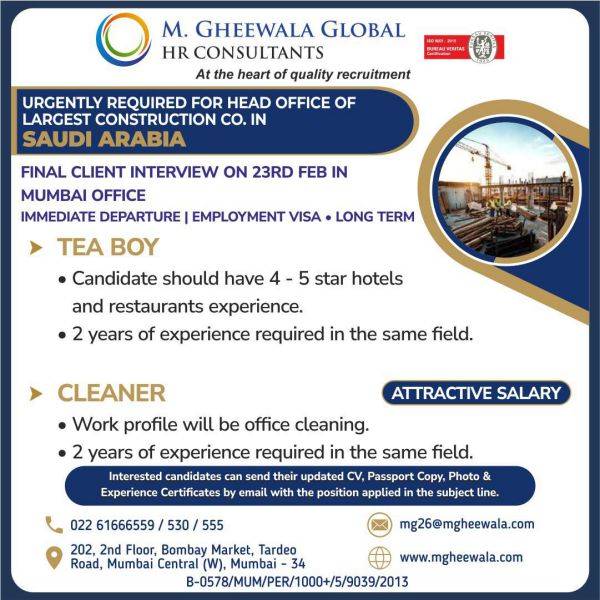 Oil & Gas maintenance jobs – Saudi Arabia
Business Development Executive jobs – Bahrain
Food & Beverages company – Saudi Arabia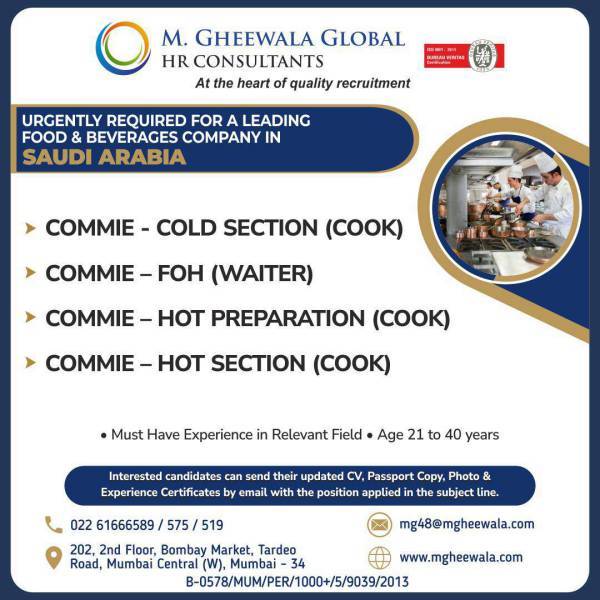 Analyst Civil job – Saudi Arabia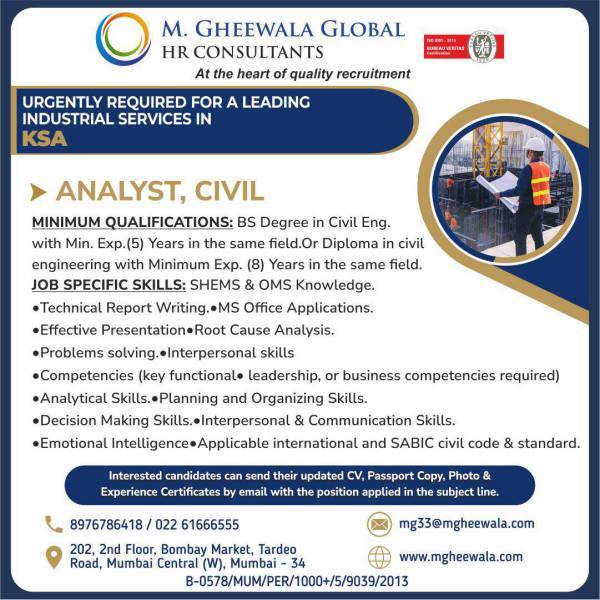 Blaster / Painter / Coating job – KSA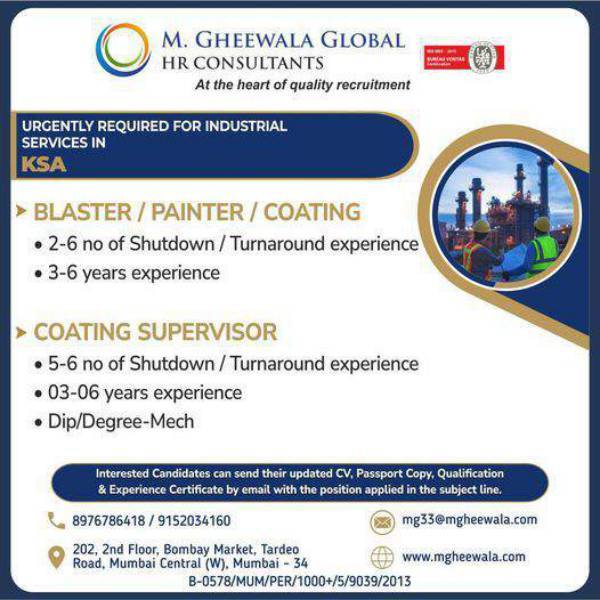 Jobs for Shipping & logistics company – Saudi Arabia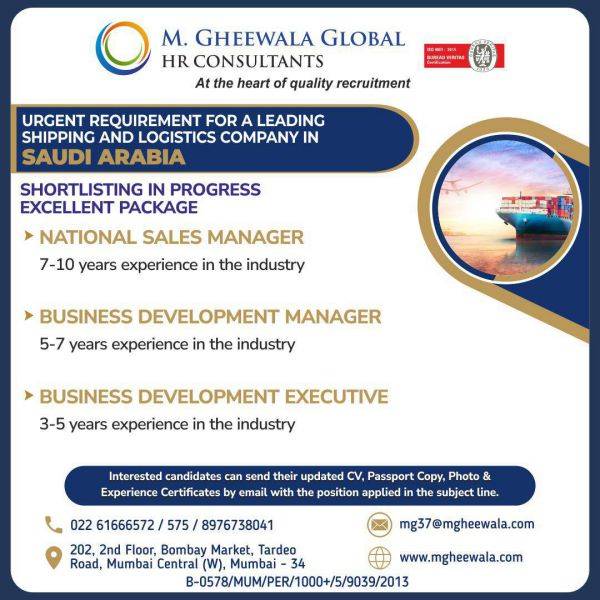 Hiring Organization
Company Name: M.Gheewala Global HR Consultants
Head Office: 202, 2nd Floor, Bombay Market, Tardeo Road, Mumbai 400034, INDIA
Branch Office: 57-B, 2nd Floor, Lane 3, New Friends Colony, New Delhi, Delhi 110025, INDIA
Email: globalhr@mgheewala.com
Phone: +91-22-61666555
View All Jobs by M Gheewala Mumbai
How to Apply?
To apply for this job position please send your updated Cv, education certificate, experience certificate, and copy of the passport in PDF format to the given email address. Don't forget to mention the job position in the email subject line.
इन नौकरियों की पद के लिए आवेदन करने के लिए अपने अपडेटेड सीवी, शिक्षा प्रमाण पत्र, अनुभव प्रमाण पत्र, और पासपोर्ट की कॉपी Pdf फॉर्मेट में दिए गए ईमेल पते पर भेजें। ईमेल के सब्जेक्ट में नौकरी की पद का उल्लेख करना न भूलें।
टेलीग्राम ग्रुप ज्वाइन करे – JOIN
Download Android App – Download
फेसबुक में जॉब की जानकारी के लिए लाइक और फॉलो करे –
More Latest Gulf jobs