Gulf want paper | Urgent requirements for the leading companies in Saudi Arabia, Bahrain, Qatar, and Abu-Dhabi. Job vacancies for Oil & Gas company, Contracting and Mechanical Services company. All the interested candidates with related experience please read the details and apply accordingly as details given below.
Security Guard Jobs Qatar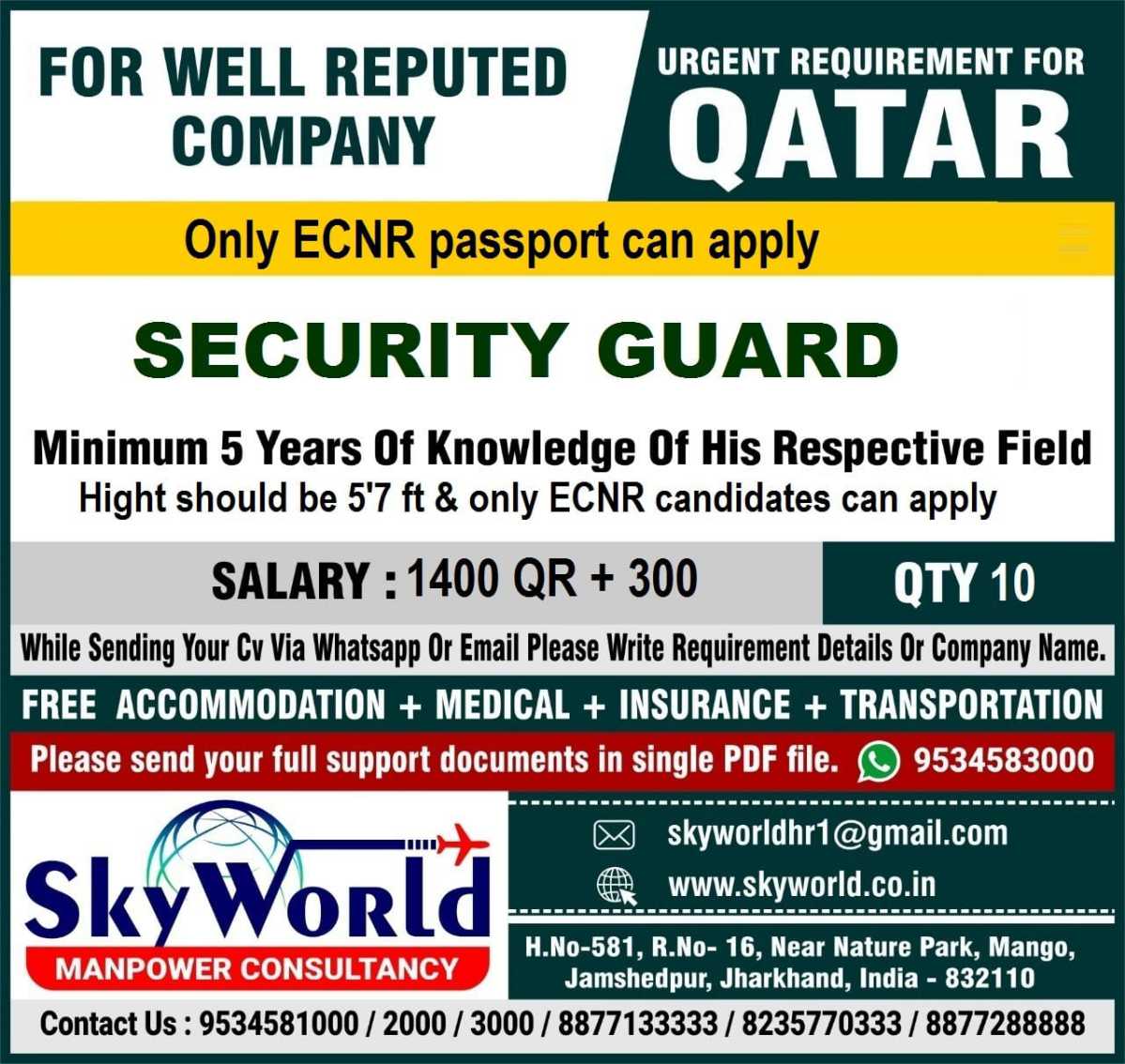 Urgent requirements for well reputed company in Qatar. Minimum 5 years of experience in the respective field, height should be 5'7" and only ECNR passport candidates can apply.
1000+ Jobs for Gulf – Check PDF Paper
Alezz Contracting & Mechanical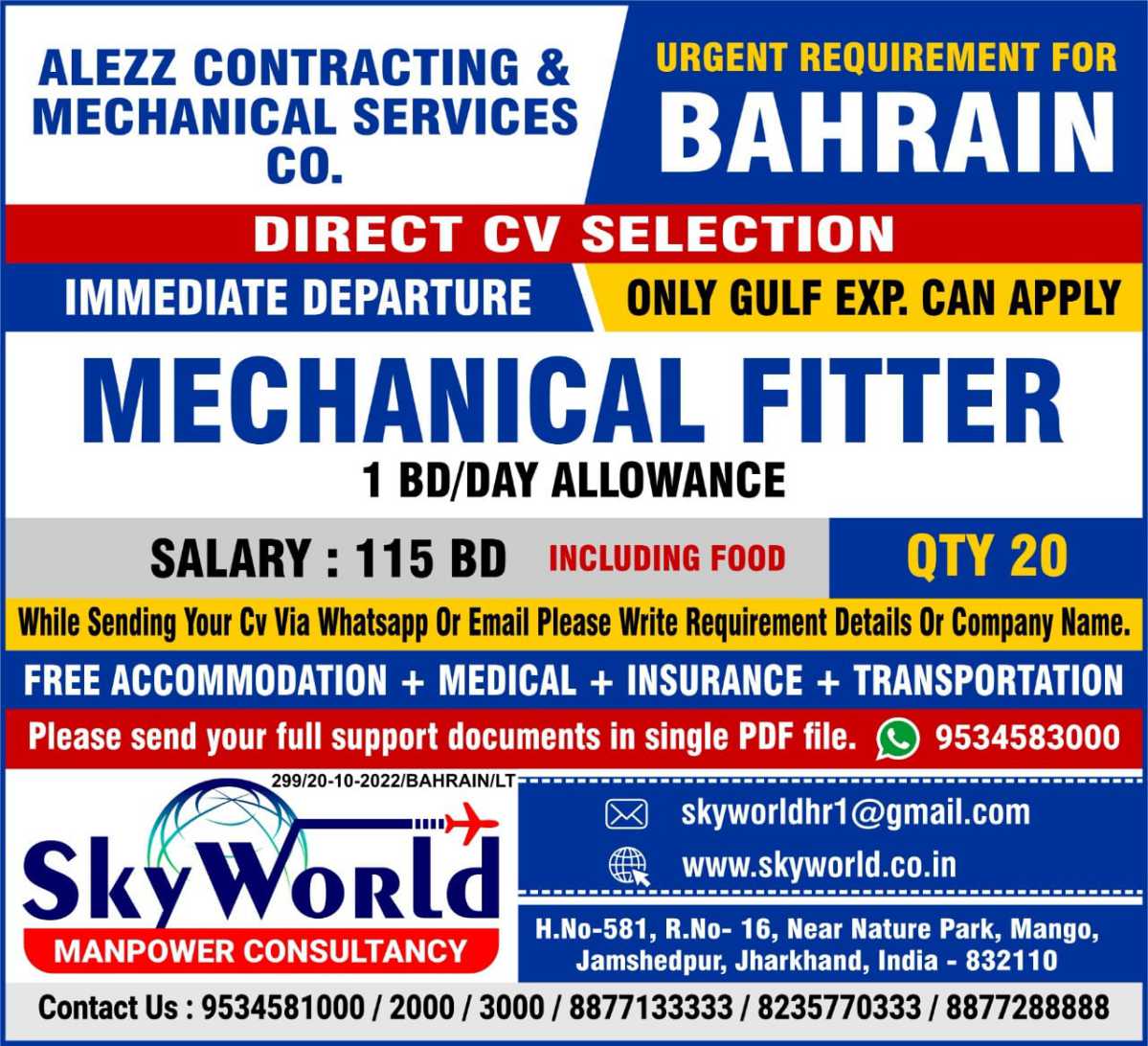 Urgent hiring for Alezz Contracting & Mechanical services company for Mechancial fitter in Bahrain. Free Accommodation + Medical + Insurance + Transportation provided by the company.
Interview for Saudi Arabia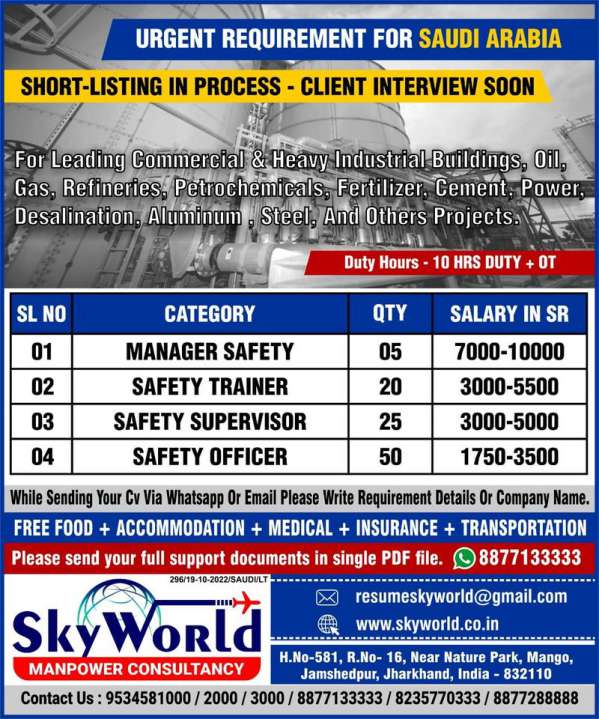 Requirements for leading commercial and heavy industrial buildings, Oil & gas refineries, Petrochemicals, Fertilizers, Cement, Power, Destilation, Aluminium, Steel, and other projects.
Oil & Gas Project Jobs Abu-Dhabi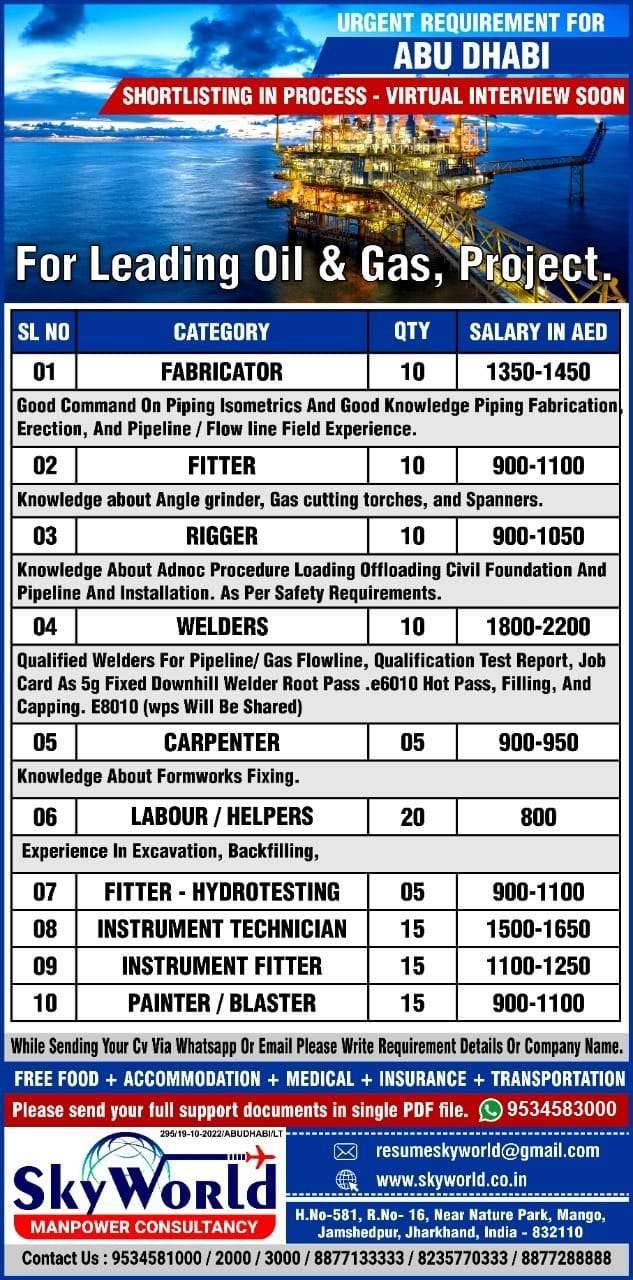 Urgent requirements for Oil & Gas Project in Abu-Dhabi. Large number of job vacancies, all the details are given in the image above. Please check the details and apply.
View All Oil & Gas job Vacancies
Hiring Organization
Consultancy: Skyworld Manpower Consultancy, H.No-581, R.No-16, Near Nature Park, Mango, Jamshedpur, Jharkhand, India
Contact: 8877133333 / 8235770333 / 8877288888
How to Apply?
To apply for this job position please send your updated Cv, education certificate, experience certificate, and copy of the passport in PDF format to the given email address. Don't forget to mention the job position in the email subject line.
इन नौकरियों की पद के लिए आवेदन करने के लिए अपने अपडेटेड सीवी, शिक्षा प्रमाण पत्र, अनुभव प्रमाण पत्र, और पासपोर्ट की कॉपी Pdf फॉर्मेट में दिए गए ईमेल पते पर भेजें। ईमेल के सब्जेक्ट में नौकरी की पद का उल्लेख करना न भूलें।
फेसबुक में हमारे साथ जुड़े – Follow on Facebook
टेलीग्राम ग्रुप ज्वाइन करे – JOIN
Download Android App – Download
More Free Jobs
More Gulf want paper