Latest Saudi jobs for Indian | Big recruitments for the leading companies in Saudi Arabia & Dubai – Hiring for FMCO Company / Serveu Company / Amarmco maintenance project.
Saudi jobs for Indian
FMCO Jobs – Saudi Arabia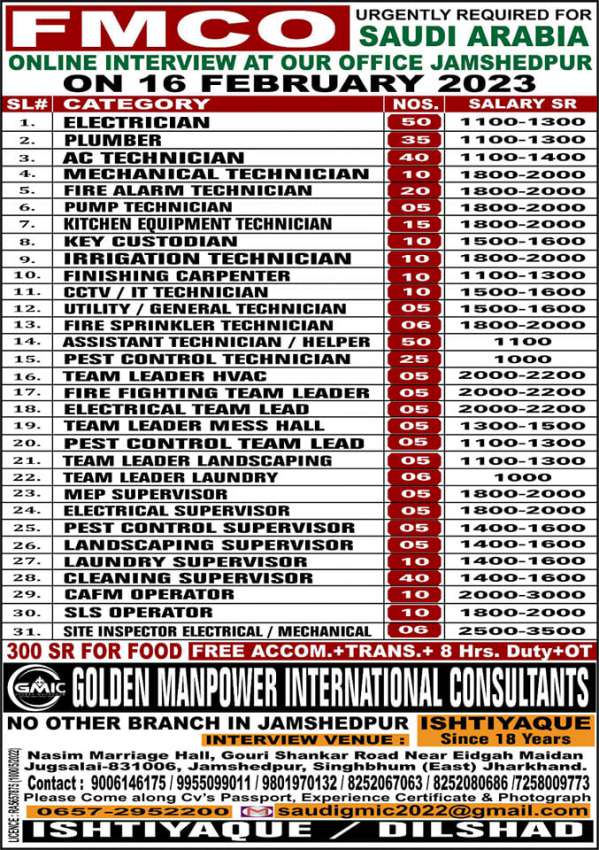 Urgently Required for Fmco Company in Saudi Arabia. A large Number of Vacancies – Online Interview at Our Office in Jamshedpur on 16 February 2023.
Job Positions:
Electrician
Plumber
Ac Technician
Mechanical Technician
Fire Alarm Technician
Pump Technician
Kitchen Equipment Technician
Plumber: 35 Nos
Key Custodian
Irrigation Technician
Finishing Carpenter
Cctv / It Technician
Utility / General Technician
Fire Sprinkler Technician
Assistant Technician / Helper
Pest Control Technician
Team Leader Hvac
Firefighting Team Leader
Electrical Team Lead
Team Leader Mess Hall
Pest Control Team Lead
Team Leader Landscaping
Team Leader Laundry
Mep Supervisor
Electrical Supervisor
Pest Control Supervisor
Landscaping Supervisor
Laundry Supervisor
Cleaning Supervisor
Cafm Operator
Sls Operator
Site Inspector Electrical / Mechanical
Job Description: 300 Sr for Food Free Accom.+Trans.+ 8 Hrs. Duty+OT
Job Location: Saudi Arabia
Apply Email: saudigmic2022@gmail.com
Contact: 9006146175 / 9955099011
Consultancy: Golden Manpower International Consultants, Nasim Marriage Hall, Gouri Shankar Road near Eidgah Maidan Jugsalai-831006, Jamshedpur, Singhbhum (East) Jharkhand.
View All Jobs by Golden Manpower
Saudi jobs for Indian
---
Serveu Facility Management – Dubai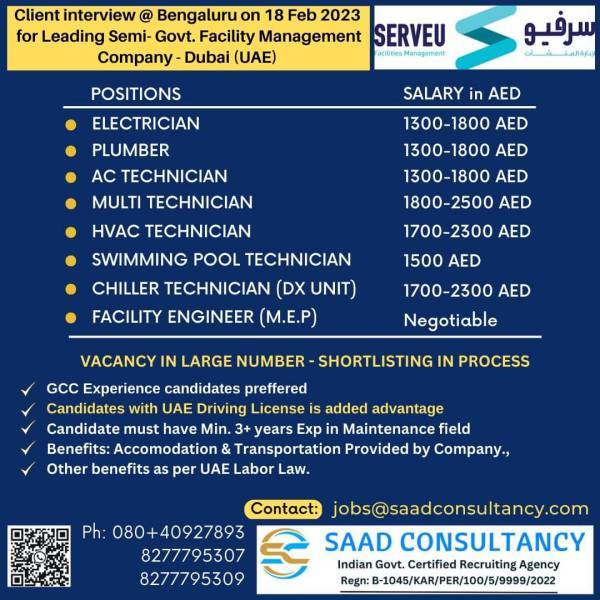 Hiring for Facility Management SERVEU Company (سرفيوالإدارة المنشات) A Leading Semi- Govt. Facility Management Company in Dubai (UAE). Client interview in Bengaluru on 18 Feb 2023.
Job Positions:
Ac Technician
Multi Technician
HVAC Technician
Swimming Pool Technician
Chiller Technician (Dx Unit)
Facility Engineer (M.E.P)
Job Description:
GCC Experience candidates preferred.
Candidates with UAE Driving License is added advantage.
Candidate must have Min. 3+ years Exp in the Maintenance field.
Benefits: Accommodation & Transportation are Provided by the Company.
Other benefits as per UAE Labor Law.
Job Location: Dubai
Apply Email: jobs@saadconsultancy.com
Contact: 8277795307 / 8277795309
Consultancy: Saad Consultancy
Also, Apply for – Gulf job Mumbai | Saudi Arabia, Qatar, Oman, and Dubai
---
Jobs for Catering Company – Saudi Arabia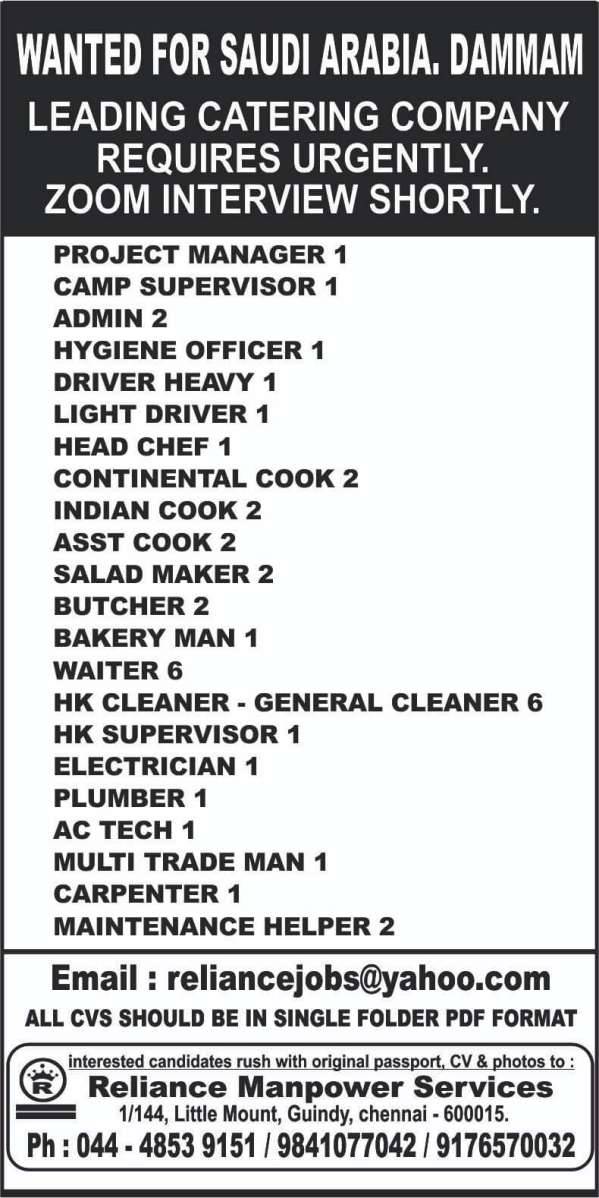 Wanted for Dammam, Saudi Arabia. Leading Catering Company Requires Urgently. Zoom Interview Shortly.
Job Positions:
Project Manager 1
Camp Supervisor 1
Admin 2
Hygiene Officer 1
Driver Heavy 1
Light Driver 1
Head Chef 1
Continental Cook 2
Indian Cook 2
Asst Cook 2
Salad Maker 2
Butcher 2
Bakery Man 1
Waiter 6
Hk Cleaner – General Cleaner 6 Hk Supervisor 1
Electrician 1
Plumber 1
Ac Tech 1
Multi-Trade Man 1
Carpenter 1
Maintenance Helper 2
Job Description: All candidates must have relevant qualifications and experience.
Job Location: Saudi Arabia
Apply Email: reliancejobs@yahoo.com
Interested Candidates Rush with their Original Passport, Cv & Photos to Given Email Address (All Cvs Should Be in Single Folder in Pdf Format).
Contact: 9841077042 / 9176570032
Consultancy: Reliance Manpower Services, 1/144, Little Mount, Guindy, Chennai.
More Jobs: Gccwalkins | Al-Hudaif | Asiapower | Sadhna Agencies
Saudi jobs for Indian
---
Aramco Maintenance Project – Saudi Arabia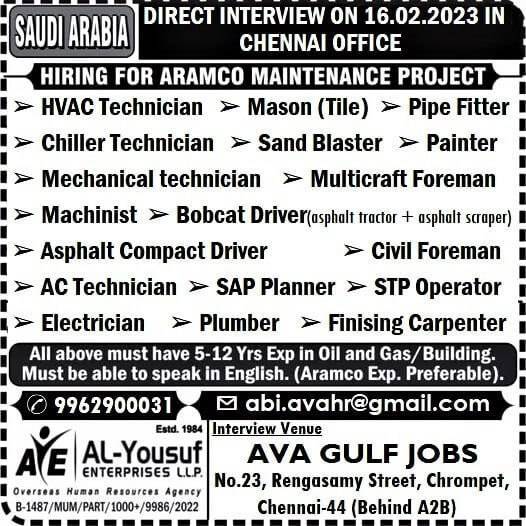 Hiring for Aramco Maintenance Project in Saudi Arabia. Direct Interview on 16.02.2023 in Chennai Office.
Job Positions:
HVAC Technician
Chiller Technician
Mason (Tile)
Pipe Fitter
Sand Blaster
Painter
Mechanical technician
Multicraft Foreman
Machinist Bobcat Driver(asphalt tractor + asphalt scraper)
Asphalt Compact Driver
Civil Foreman
AC Technician
SAP Planner
STP Operator
Electrician
Plumber
Finishing Carpenter
Job Description: All above must have 5-12 Yrs Exp in Oil and Gas/Building. Must be able to speak in English. (Aramco Exp. Preferable).
Job Location: Saudi Arabia
Apply Email: abi.avahr@gmail.com
Contact: 9962900031
Consultancy: Al-Yousuf Enterprises LLP
Interview Venue: AVA GULF JOBS, No.23, Rengasamy Street, Chrompet, Chennai-44 (Behind A2B)
Also, Check – Gulf job vacancy in Mumbai office | Saudi & Kuwait Wants
Apply Process
To apply for any job position please send your updated Cv, education certificate, experience certificate, and copy of the passport in PDF format to the given email address. Don't forget to mention the job position in the email subject line.
नौकरियों की पद के लिए आवेदन करने के लिए अपने अपडेटेड सीवी, शिक्षा प्रमाण पत्र, अनुभव प्रमाण पत्र, और पासपोर्ट की कॉपी Pdf फॉर्मेट में दिए गए ईमेल पते पर भेजें। ईमेल के सब्जेक्ट में नौकरी की पद का उल्लेख करना न भूलें।
Download Android App – Download
WhatsApp Group – Join Now
फेसबुक में जॉब की जानकारी के लिए लाइक और फॉलो करे –
More Saudi jobs for Indian